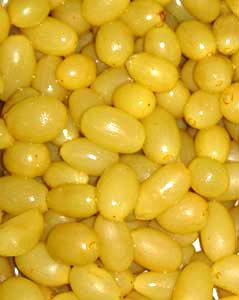 Fresh grapes canned is a major ingredient for all fruit salad, fruit cocktail and yoghurt plants. One of the most difficult products to put in a can and it requires total control of the fruit from the vineyard.
The grapes come from our own Eurepgap certified growers team and are fully assisted by our own agronomists. Fruit has to be absolutely canned in the right moment other wise all sorts of problems from split berries to product weight loss due to osmotic pressures.
Fresh grapes canned in syrup or water.
Color Light yellow to white
Berry sizes: 11-13 mm 13-15 mm 15+mm
Grapes in A12 Cans Drained weight 2.8 kg.
Eurepgap certified grapes
Fully traceability system and code per can
Pesticides analyzed all grapes
5 Days delivery to all European manufacturers
© 2001 SULTANAS EXPORT UNION ltd.