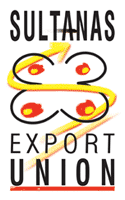 SULTANAS
Export Union
Address
Agios Ioannis Hostos Heraklion, Greece
Postal Address
PO BOX 1060, 71 110 Heraklion, Greece
Tel: +302810252032-35
Fax: +302810252030
info@sultanas.gr


We are Closer ...
... to the Vineyards
SEU's 40.000 sq m processing facility is located in one of Europe's largest vineyard areas the area of Heraklion on the Isle of Crete.
... to Good Production Processes
We are constantly applying environmentally friendly ,high tech processing in which quality, efficiency accompanied by guarantee are key results.
... to Quality Practices
At SEU we have a strict set of procedures that must be applied and followed at all times and are monitored continiously by our quality assurance team.
... to your Market
We carefuly watch all the developments of the packing industry as we are offering only the best when it comes to packed ready to use product.
... to your Needs
Working with Sultanas Export Union ltd means collaborating with a reliable partner with an eye on your wishes and your budget.
© 2001 SULTANAS EXPORT UNION ltd.