Mixed Fuit is a blended mixture of Sultanas, Thomson Raisins, Currants and glaciered pieces of Orange and Lemon skin.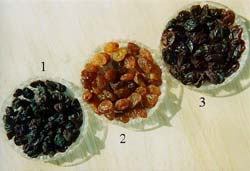 The standard receipe is:
1. 30% Currants
2. 30% Sultanas
3. 30 % Thomson Raisins
and 10% Orange & Lemon or Citrus peels diced in cubes ( 70 - 80% Orange & 20-30% Lemon or Citrus)
The oranges that have their skin treated with sugar to become glaciered originate only from the region of Chania on the isle of Crete and are very famous for the distinct smooth sweet flavor.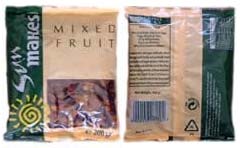 Packing
Packs Bulk or in Pillow bags
Bulk 3 -5-9-10-12.5-14-15 kg
Micro Packs 30g up to 1kg



© 2001 SULTANAS EXPORT UNION ltd.